Vitrinite Reflectance Standards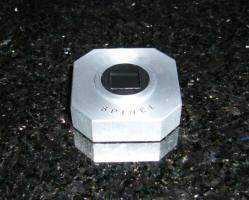 This email address is being protected from spambots. You need JavaScript enabled to view it.
Vitrinite Reflectance Standards for use with the Microspectra 1 CoalPro™ Vitrinite Reflectance Measurement System.

CRAIC Technologies™ offers a variety of mono-crystalline prisms designed for calibration of vitrinite reflectance measurement microscope photometers, such as the Microspectra 1 CoalPro™ system, at 546 nm. The materials of each prism varies so that the Microspectra 1 CoalPro™ system can be calibrated across a range.
When used with the CRAIC Microspectra Vitrinite Reflectance Analysis™ software, CRAIC Vitrinite Reflectance Standards are part of an automated calibration procedure. They are simple to use and result in high quality vitrinite reflectance measurements that comply with ISO, ASTM and other international testing protocols for vitrinite coals. Call today for more information.
Materials available in CRAIC Vitrinite Reflectance Standards
Cubic Zirconia
Gadolinium-Gallium-Garnet
Sapphire
Spinel
Strontium-Titanate
Yttrium-Aluminium-Garnet