UV-vis-NIR Microscope & Microspectrophotometer Hardware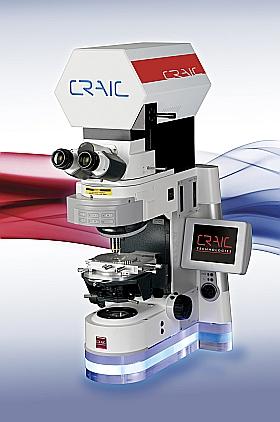 CRAIC Technologies' microspectrophotometer, microscope spectrometer, UV-visible-NIR microscope and Raman microspectrometer hardware solutions are designed to enhance capabilities, performance, ease-of-use and versatility of your instrument.

CRAIC Technologies™ has many hardware packages for different applications and requirements. Our hardware packages range from powerful automation solutions to many types of standards. All our packages are integrated with CRAIC instrument control software and our range of microspectrophotometer & microscope spectrometer instruments.


CRAIC Technologies™ Hardware Packages


Automation Packages:

Automate microspectral analysis, including film thickness measurements, with the addition of a programmable stage and other features. Ideal for industrial applications that require repetitive measurements.

GeoImage™ Vitrinite Coal Measurement System : calculate the true, calibrated vitrinite reflectance spectra of a coal sample to determine thermal maturity with a CRAIC microscope spectrometer.
Microspectra Imaging™ UV-visible-NIR Imaging Package: Acquire and analyze images captured in the UV, visible and NIR with CRAIC's high resolution digital imaging solutions.
Microspectrometer Dust Covers: Protect your investment with these stylish covers
Specify make and model for when calling for pricing.